Stay at Home Limited-Time Promotion!
Details
*𝗖𝗼𝘂𝗻𝘁𝗶𝗻𝗴 𝗗𝗼𝘄𝗻 𝗶𝗻 𝟭 𝗗𝗮𝘆!!✨
𝗟𝗶𝗺𝗶𝘁𝗲𝗱-𝗧𝗶𝗺𝗲 "𝗦𝘁𝗮𝘆 𝗮𝘁 𝗛𝗼𝗺𝗲" 𝗣𝗿𝗼𝗺𝗼𝘁𝗶𝗼𝗻
Always dying to become our Member?
Not ready for the long-term commitment just yet?
• • • • • • • • • • • •
We are now offering your favourite courses with a 𝗹𝗶𝗺𝗶𝘁𝗲𝗱-𝘁𝗶𝗺𝗲 𝗼𝗳𝗳𝗲𝗿 packages, for you to be 𝗜𝗡 with us and get to speak to our professional trainers through a 𝗽𝗿𝗶𝘃𝗮𝘁𝗲 𝘀𝗲𝗺𝗶𝗻𝗮𝗿! What's even better? Become our Member with your membership fees waived!
Providing you safe and hassle-free event access and a digital recipe book when you purchase these limited-edition packages during the MCO period.
*Only available for 3 days from 24-26 Apr 2020
*International Cooking Passport will only be applicable on the next top up
*Digital recipe book access on Members Hub
*T&Cs apply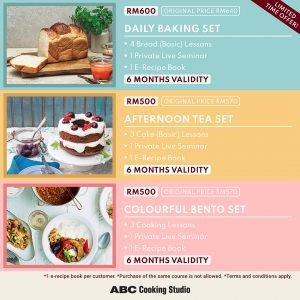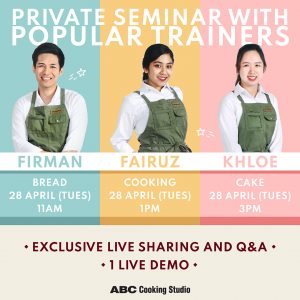 Locations
View All News