Mothers' Day Special! Gratitude Set
Details
*PROMO✨
𝙄𝙛 𝙮𝙤𝙪𝙧 𝙢𝙤𝙢 𝙨𝙖𝙮𝙨 𝙨𝙝𝙚 𝙙𝙤𝙚𝙨𝙣'𝙩 𝙬𝙖𝙣𝙩 𝙖𝙣𝙮𝙩𝙝𝙞𝙣𝙜, 𝙨𝙝𝙚 𝙨𝙚𝙘𝙧𝙚𝙩𝙡𝙮 𝙙𝙤𝙚𝙨.
• • • • • • • • • • • •
💕𝗔𝗕𝗖 𝗰𝗲𝗹𝗲𝗯𝗿𝗮𝘁𝗲𝘀 𝗛𝗘𝗥 𝗮𝗻𝗱 𝗛𝗘𝗥 𝗙𝗮𝗺𝗶𝗹𝘆 𝘁𝗵𝗶𝘀 𝗠𝗼𝘁𝗵𝗲𝗿𝘀' 𝗗𝗮𝘆💕
It's never too early to start planning for Mother's Day! Gift a full hands-on course to give back to the family! And to be a more responsible family member this year.
Shop our handpicked 𝗚𝗿𝗮𝘁𝗶𝘁𝘂𝗱𝗲 𝗦𝗲𝘁 for your mother or family members for a lovely Mothers' Day celebration! Receive a set of 𝟮 𝗖𝗮𝗸𝗲 𝗕𝗮𝘀𝗶𝗰, 𝟮 𝗖𝗼𝗼𝗸𝗶𝗻𝗴 𝗮𝗻𝗱 𝟮 𝗢𝗻𝗹𝗶𝗻𝗲 𝗥𝗲𝗰𝗶𝗽𝗲𝘀 at 𝗼𝗻𝗹𝘆 𝗥𝗠𝟴𝟬𝟬 with 𝗔𝗕𝗖 𝗠𝗲𝗺𝗯𝗲𝗿𝘀𝗵𝗶𝗽 (𝘄𝗼𝗿𝘁𝗵 𝗥𝗠𝟮𝟱𝟬) 𝘄𝗮𝗶𝘃𝗲𝗱 if you are a new customer! Members to receive (1) free Lesson Ticket and 2 Online Recipes when successfully referred to a new join Member.
Receive an Ultifresh reusable face mask to protect you and your family when you're the first 50 customers for this promotion!
Check our poster for the exclusive Online Recipes, only available for this Mothers' Day Special Gratitude Set.
To purchase, log onto the Official Website.
**𝙁𝙤𝙡𝙡𝙤𝙬 𝙩𝙝𝙚 𝙨𝙩𝙚𝙥𝙨:
1. Click into 'Online Purchase'
2. Fill in the Membership Application form & Course Application Form
3. Upload your payment slip via bank transaction
in full payment
4. Submit form to complete your application!
.
*Only available for 3 days from 7-9 May 2020
*International Cooking Passport will only be applicable on the next top up
*Online recipe access on Members Hub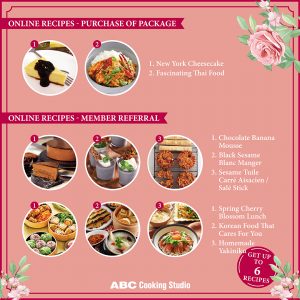 Locations
View All News